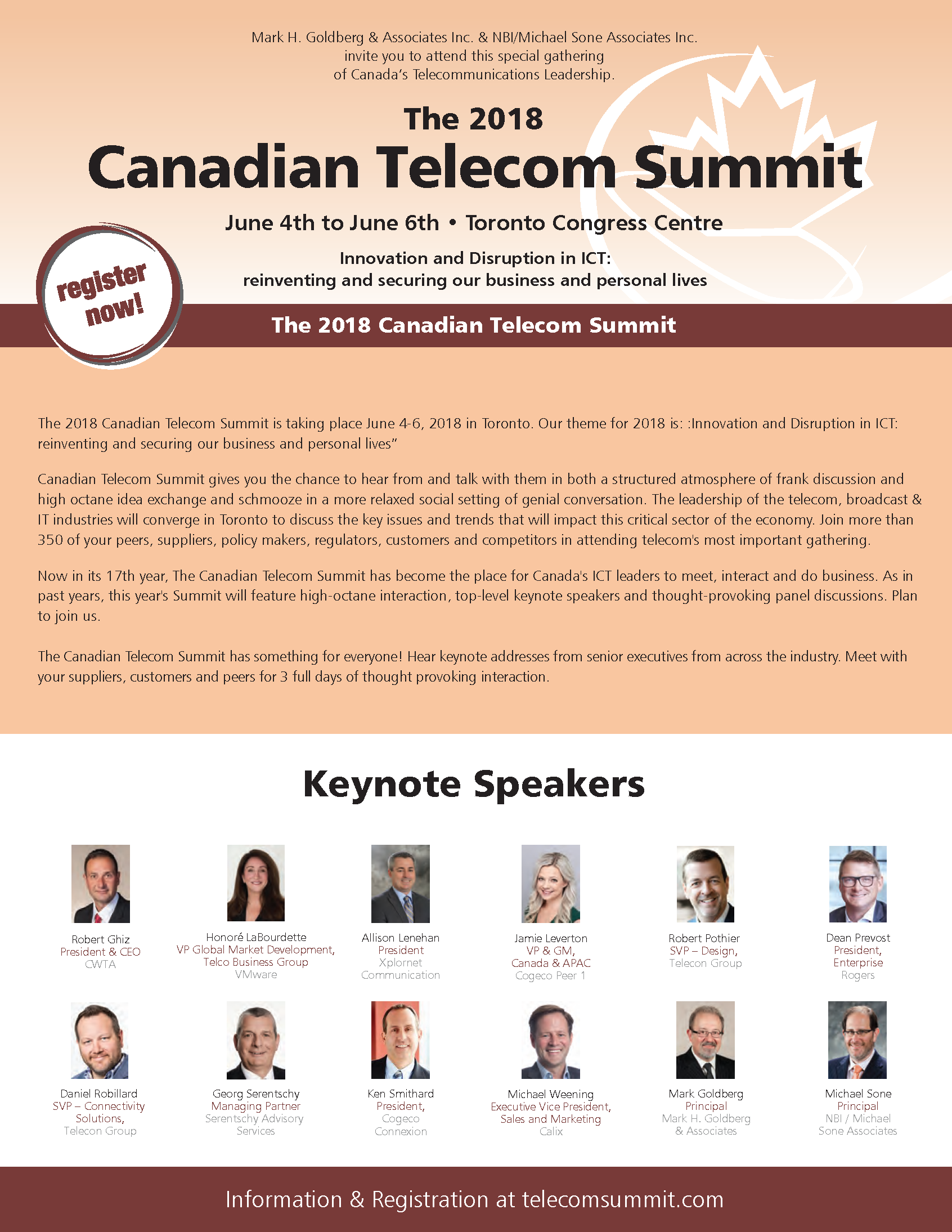 More than 60 leaders who shape Canada's ICT industry will speak at The 2018 Canadian Telecom Summit, June 4-6 in Toronto. The event will include over a dozen keynote addresses offering insights into the future of Canadian ICT, examining the services, technologies, consumer & business trends and regulatory & policy initiatives that drive the information economy.
This year, in addition to the ever popular Regulatory Blockbuster, we are featuring sessions devoted to:
Cyber Security: Securing your data; protecting your privacy
Customer Experience Management
The 5G journey: IoT, connected cars, mobile video and more
Network Innovation & Service Delivery: Transforming networks & applications for nexgen services
Cultivating an Innovation Economy
Artificial Intelligence: Should we embrace or fear what's coming</li>
With so much public attention focused on telecommunications & broadcast issues, no other event is quite like The 2018 Canadian Telecom Summit in covering the industry from every angle.
Now in its 17th year, The Canadian Telecom Summit has become Canada's most important annual ICT event, attracting attendees from around the world.
For 3 days, The Canadian Telecom Summit delivers thought provoking presentations from the prime movers of the industry. This is your chance to hear from and talk with them in both a structured atmosphere of frank discussion and high-octane idea exchange and network in a more relaxed social setting of genial conversation.
After being immersed in a full program of keynotes and panel discussions, plan to attend our not-to-be-missed Cocktail Reception. This is a chance to unwind, enjoy some delicious food & drink, catch up with colleagues and make new professional acquaintances.
Come meet with leaders from services and equipment suppliers, applications developers, policy makers, regulators and major customers.
Book your seat early.
The Canadian Telecom Summit is the only event you need to attend. For the complete agenda, visit the conference website or download the brochure.
Save $250 by registering before May 1.
Special Networking Events: All participants are invited to join us for our annual cocktail reception Monday evening, June 4.
---
Continuing Professional Development: Time spent attending substantive sessions at The Canadian Telecom Summit can be claimed as "Substantive Hours" toward the Law Society of Ontario's Continuing Professional Development (CPD) requirements.