Wednesday, October 07, 2009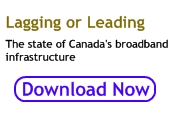 For months now, I have been writing about the disturbing lack of context in respect of some reports examining the state of Canada's telecommunications industry, especially those that have cited various OECD studies released over the past few months.
As
I wrote
in June, it has become increasingly clear that the OECD's analysis is flawed.
The failure by so many to analyse the data appears to confirm what President Barack Obama
said recently
in a newspaper interview:
I am concerned that if the direction of the news is all blogosphere, all opinions, with no serious fact-checking, no serious attempts to put stories in context, that what you will end up getting is people shouting at each other across the void but not a lot of mutual understanding.
Countless statistics and rankings have been developed regarding the state of broadband networks in countries around the world. Yet, the sum total of all this work may have clouded the issues and caused confusion among policymakers and other stakeholders.
Canada is no exception. While some paint a picture of crisis, others argue that Canada has enviable broadband infrastructure and is well-positioned for the future, despite facing unique geographic challenges.
One matter that is uncontested is that the stakes are high. Countries around the world see information and communication technologies (ICTs) like broadband as key to their economic futures. In Canada, as in other countries, these issues are important to the economic present as well. Canadian telcos, cablecos and wireless providers invest between $8B and $10B each year in advanced communications infrastructure. These investments support $54B in revenues and provide jobs to more than 140 thousand Canadians.
ICT policy sets an enabling foundation for Canada's participation in a global knowledge-based economy.
A group representing Canada's largest internet service providers commissioned my firm to study the issue. Today, we are releasing our report [
pdf
, 944KB] that seeks to clarify the facts, dispel myths and provide the analysis needed to constructively move the issues forward and facilitate a more informed debate.
The report concludes that Canadians benefit from a robust, diversified broadband infrastructure. All Canadians who want to subscribe and pay for broadband can obtain service. We have 100% availability when you consider all the technology choices available. The vast majority of Canadians benefit from a world-leading level of choice in access to broadband technologies, using twisted pair, coaxial cable, wireless (fixed and mobile) and satellite.
Moreover, Canadians have access to some of the most affordable services, while also benefiting from some of the world's fastest connection speeds for both wireline and wireless broadband services.
In terms of adoption, Canada continues to lead all G-8 countries in adoption of internet services, and ranks in the top ten for most international comparisons on broadband penetration and speeds, contradicting
last week's student project
from the Said School of Business at Oxford.
With almost 70% of Canadian households already subscribing, there remains a significant opportunity to expand broadband adoption even further.
The report recommends:
As we go through the process of developing a national ICT strategy, recognize the true state of Canada's ICT infrastructure
Continue policies focused on fostering facilities-based competition
Build on the past success of private sector investment by removing current policy and regulatory uncertainty regarding investments in next-generation networks
Shift more attention to adoption issues (including adoption of next-generation services) and encourage socio-economic research focused on better understanding the obstacles to, and inhibitors of, broadband adoption
Consider programmes to improve digital literacy and the use of incentives (tax-based or otherwise) to target and overcome any barriers to broadband adoption
You may download the complete report here [
pdf
, 944KB]. It provides the context to enable a better understanding and discussion of the issues for expanding broadband in Canada.
Comments:
It amazes me how upset these broadband companies get when "someone" (the university of Washington i believe) does independent research on their level of service (or should i say, lack thereof). The simple fact is that the level of service in regards to broadband internet in Canada is not as great as these companies would like you to believe.
From my own personal experience, i've been getting about a tenth of the service that i am paying for (i'm on rogers portable internet and am only 5km from the tower). Regardless of how many times i call tech support about the problems i encounter, the issues are never fixed. "oh everything's fine on our end", "sure, 700ms of latency is perfectly normal sir". Yea, okay.
My friend has also had bad experiences and slowdowns with his rogers high speed internet as well. Although these examples are strictly rogers, i have had other friends encounter all sorts of problems with other big service providers, like Bell. The fact that these companies had a study done a week after the Washington study is laughable at best. Many Canadians, like myself, only want one thing: RELIABLE SERVICE!
How i found the blog:
http://sync.sympatico.ca/news/contentposting_cbc.aspx?feedname=cbc-tech-science-v3&showbyline=true&newsitemid=broadband-report-isp-bell-rogers-shaw-telus&paginationenabled=false
Post a Comment
Links to this post:
<< Home